Helps for the Hostess. Camden, NJ: Joseph Campbell Company, 1916.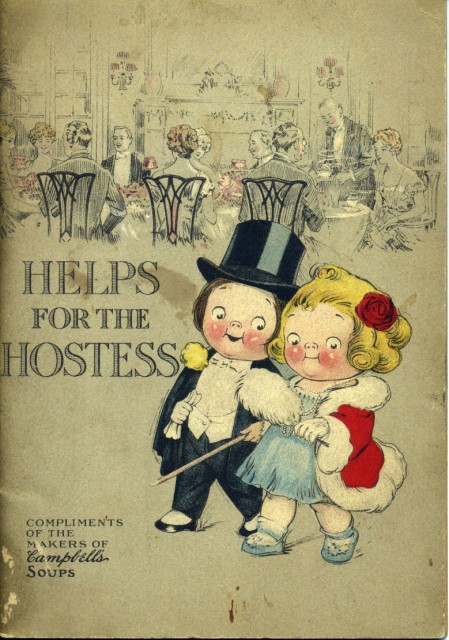 I was going to begin this post by triumphantly declaring that I didn't own a single can of Campbell's soup. But when I went to the kitchen to double-check, I found (of course) a can of cream of mushroom. I have no idea where it came from, but there it was. My mother, raised in California in the 1950s and thus perversely fond of canned soups, would be proud. Some quick back-of-the-envelope math leads me to believe that I ate chicken breasts with cream of mushroom soup approximately three hundred times between the years of 1978 and 1996; green bean casserole (canned green beans, water chestnuts, cream of mushroom soup, Durkee French-fried onions) probably accounts for another hundred and fifty or two hundred exposures. My Campbell's soup consumption, aside from the occasional can of chicken noodle when I was under the weather, was mostly in the form of these casseroles. I was not alone. John Thorne, in his wonderful Mouth Wide Open, points out that "purchasers us[e] one of every three cans as a recipe ingredient; with cream of mushroom soup, that figure jumps to 80 percent."
Until 1916, when Campbell's published Helps for the Hostess, canned soups were primarily marketed as, well, soups. Perhaps realizing that the demand for clam bouillon and mutton soup had its limits, Campbell's devised new recipes. For the first time, the soups were used as recipe ingredients, rather than as stand-alone courses. Helps for the Hostess starts off with menus featuring Campbell's soup, but eventually moves on to aspic, pointing out that with Campbell's consommé and bouillon "you [could] have a crystal-clear aspic without any labor." No more "trouble boiling, straining with egg whites, etc.:"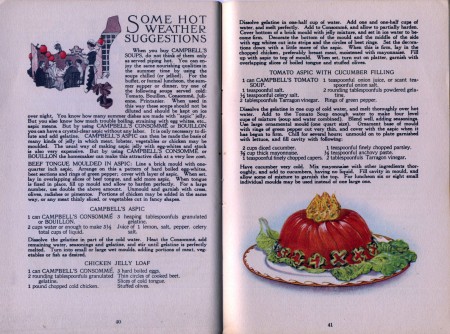 The really brilliant turn, though, comes when the authors suggest that Campbell's soups can be used as an alternative to "elaborate" sauces:
One of the most important and economical uses of CAMPBELL'S SOUPS is for sauces. Instead of taking time to make and season elaborate sauce, you need only use one of the many kinds of CAMPBELL'S SOUPS. Many times unattractive "left-overs" are thrown away when, by using a can of CAMPBELL'S SOUPS, they could have been made into an attractive, appetizing dish. You can combat the high cost of living by using CAMPBELL'S SOUPS as sauces, thus making a second meal at low expense and the quality of the sauces obtained in this way leaves nothing to be desired.
In 1916, though, none of Campbell's 21 varieties of soup (there are now 81 and counting) came pre-thickened. They were condensed, but not sauce-ready. The pamphlet suggests making a roux with one tablespoon of butter and one tablespoon of flour, to which any of their soups could be added. This is marginally faster than making a sauce from scratch, but Campbell's eventually realized that they could make things even easier for their customers. In 1934, Campbell's introduced cream of mushroom, and "America's béchamel" was born. Helps for the Hostess has a number of recipes based on tomato soup instead, like the vol-au-vent, halibut, and spaghetti below: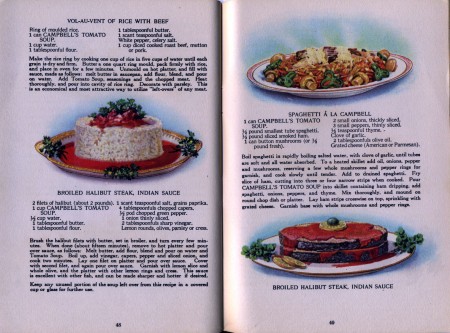 For time-saving recipes, they are curiously involved. The rice for the vol-au-vent is carefully molded (and since when is a vol-au-vent made with rice?); the halibut is broiled and brushed with butter; the spaghetti (once the "tubes" are cooked) is tossed with a fancy ham/mushroom/green pepper/onion sauce. Canned tomatoes or even fresh tomatoes would hardly have been more work. If the aria below about their tomato farms and choice meats is to be believed, Campbell's was trying to sell their customers on the idea of quality and consistency more than convenience, at least in the early days: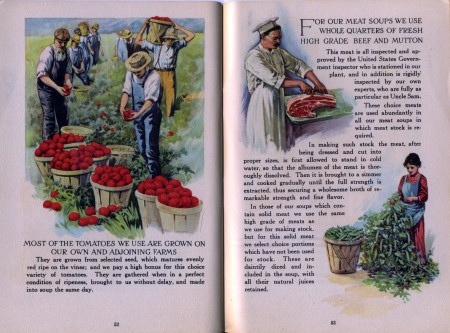 Campbell's has published many cookbooks and produced lots of memorabilia over the years, so much so that there's a book just for collectors. Sample titles include: Campbell Kids Alphabet Soup, Cooking with Soup, and Back Label Recipes and More!