Better Homes and Gardens Guide to Entertaining. New York: Meredith Books, 1969.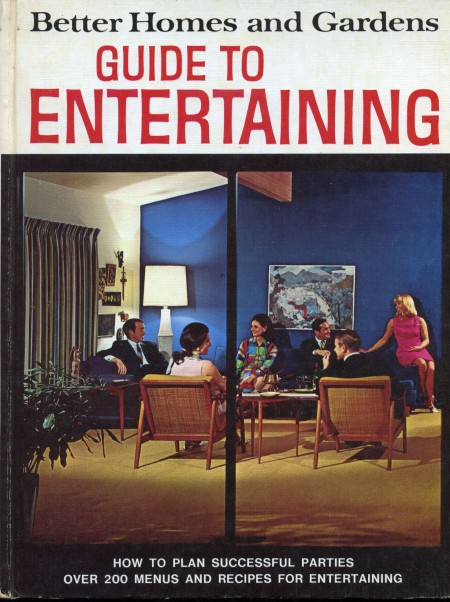 My favorite book about entertaining is, without a doubt, Elsa Maxwell's How to Do It, but the Better Homes and Gardens Guide to Entertaining has its moments too. Published in 1969, it covers everything from picking the right guests ("a party revolving around touch football would be inappropriate for your elderly friends") to the setting ("You can even decorate the garage, carport, or attic, for parties if you wish") and, of course, the menu ("if you've invited foreign guests–their religion will often determine what they can eat"). Relentlessly upbeat, it promises a "comprehensive treatment of all elements of entertaining so that you may find the answer to any hostessing problem." The solutions they suggest to these problems resemble, at best, the set of a Douglas Sirk movie and, at worst, a Jell-O and maraschino cherry fueled nightmare. I think this table setting falls squarely in the center of that continuum: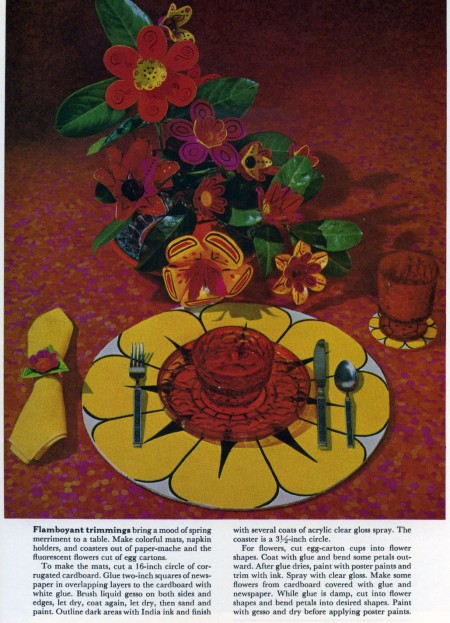 I sort-of like the placemat (it's cheerful!), but the aggressively painted egg-carton flower arrangement is a little too much for me.
I *love* anything that touches on teens and their blossoming hostessing skills. The Guide doesn't disappoint, noting that "[s]picy, hot, unusual foods seem to be teen favorites." Their suggested menu: Tamale Hero Sandwiches, "pickle-sickles," and ice cream. Yum.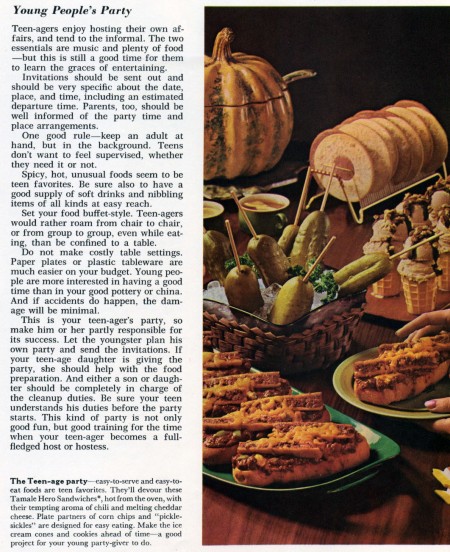 The menus for the adults aren't much better. The meal below is, as promised, "colorful and eye-appealing," but I have some doubts about the flavor combinations. I would probably secretly enjoy that ham/cheese/mushroom/cornflake casserole (the dishes aren't labeled, so I'm guessing about the contents), but I feel less certain about the artichoke and mandarin orange salad, and more than a little worried about that (canned?) cherry parfait.
Aside from a delicious-sounding recipe for Swiss Baked Eggs (bacon, light cream, Swiss cheese, eggs) and some truly lovely mid-century modern furniture lingering in the background, I'm afraid that The Better Homes and Gardens Guide to Entertaining hasn't aged so well. But if you, like me, have a soft spot for the garish and optimistic hostessing styles of the 1960s, this book is a treasure trove.
The editors of Better Homes and Gardens are responsible for many other books, including the famous "Plaid" cookbook, now in its 12th edition.