Oliver, Michel. La Cuisine Est Un Jeu D'Enfants. Paris: Plon, 1963.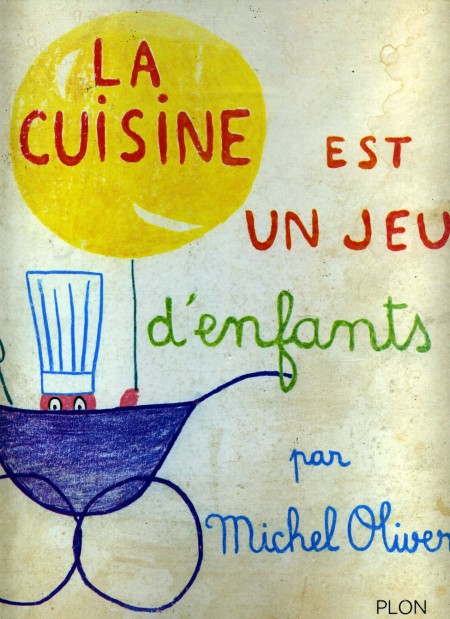 Brief infatuation with From Mr. Bingle's Kitchen aside (the recipe for fruit pizza was and is awesome), I never had much interest in children's cookbooks. I was a strictly Better Homes and Gardens kind of girl. (I have a weakness for binders, not to mention plaid.) From what I could tell I wasn't missing much, just a lot of knife-less, stove-less, fun-less recipes. My position has softened a bit lately. I've found a few good books (see Alice Waters, Marion Cunningham, Heston Blumenthal), and at least one great one: Michel Oliver's La Cuisine Est Un Jeu d'Enfants*. It has whimsical illustrations, ambitious recipes (coq au vin, cheese soufflé), and an introduction by Jean Cocteau. I would have *loved* this book when I was eight. Take, for instance, this recipe for Lapin à  la Moutarde: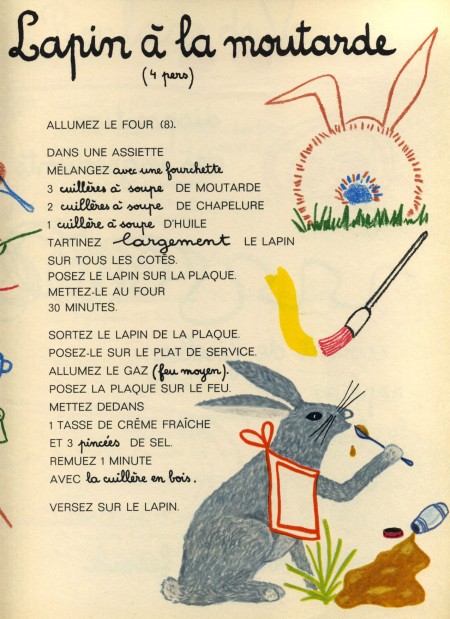 I like the idea of this refined, bib-wearing rabbit having a mustard snack in preparation for becoming dinner. If the rabbit already loves mustard, why not slather him in it? As this recipe suggests, Oliver's definition of children's food was generous. He kept the ingredients and the steps to a minimum, but the flavors were complex (in a traditional French kind of way) and he wasn't afraid to involve knives or an oven.
If your French (like mine) is a little lacking, there is also a lovely English translation, called Cooking is Child's Play, by Charlotte Turgeon. The entire book is reproduced in the original French, with monochrome English translations after each recipe. Like this, for our friend the rabbit: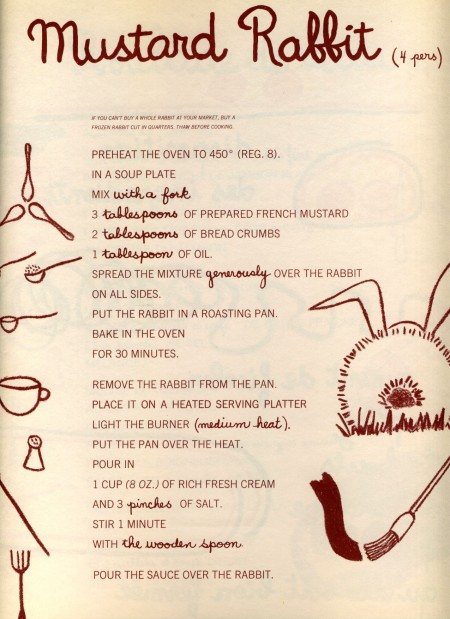 The translation includes a small note at the top about buying quartered, frozen rabbit if whole, fresh rabbits are not available. This is apparently not a problem when the recipe is in French.
One last picture, because IÂ love this chicken and his swimsuit. (English version here.)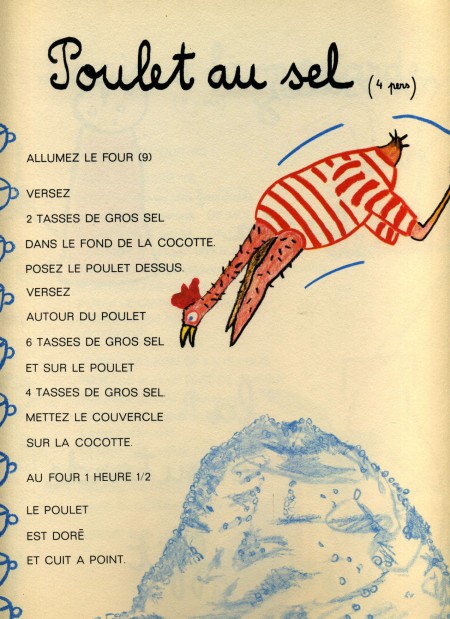 Also by Michel Oliver: La Cuisine Est Un Jeu De Grands Enfants, La Patisserie Est Un Jeu D'Enfants
*Apologies for the somewhat crappy scanning. This book is HUGE, and my poor scanner couldn't handle it.