Fobel, Jim. Beautiful Food. New York: Van Nostrand Reinhold, 1983.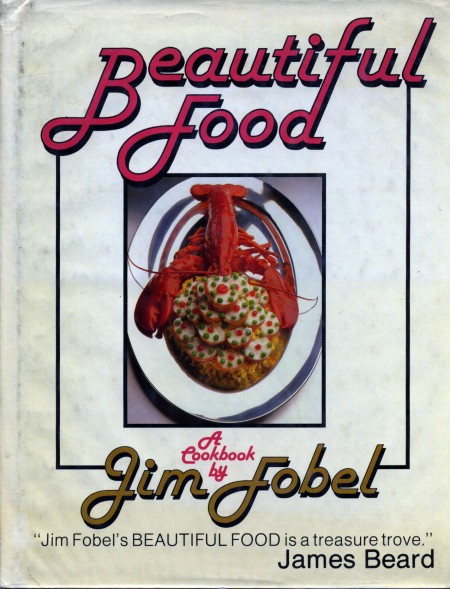 The lacquered lobster on the cover was all it took. I was unable to resist buying Jim Fobel's Beautiful Food  when I found it in a used bookstore several years ago. To its credit (as promised on the jacket), it has been a "constant source of delight and inspiration to [me]" since then. Possibly more delight than inspiration–I've never actually made any of the recipes, which range from the merely fussy to the totally insane. The premise of the cookbook is that "meals in minutes" must be vanquished, and that food should be as much (or more) about appearance as taste. While I'm all for lovely presentation, Fobel sometimes took things a bit too far, in a completely charming sort of way. On Thanksgiving, for instance, he recommended dressing up the turkey "with a tailor-made pastry outfit," otherwise known as a tuxedo: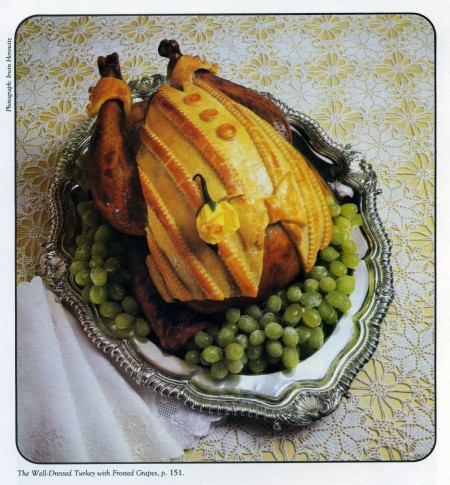 (Recognizing that it might be difficult to freehand those spats, he was kind enough to include a template.)
 As Fobel mentioned several times, his background as a painter and potter (in San Francisco, in the 60s) informed his ideas about food. He saw his dishes as "finished edible creations," fertile ground for experimentation. Unsurprisingly, his antipasto jars and Bas-Relief Oat Bread were a sight to behold.  The Mosaic Shrimp-and-Salmon Mousse was especially elaborate and exciting: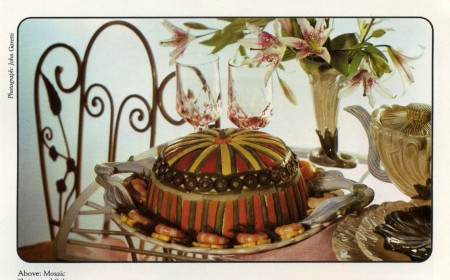 As with most of the recipes, the mousse was accompanied by helpful diagrams (like this one) and detailed structural advice. Fobel seems to have recognized that his Erector Set-approach to cooking needed ample documentation.
One last treat: the author photo. I LOVE the cats.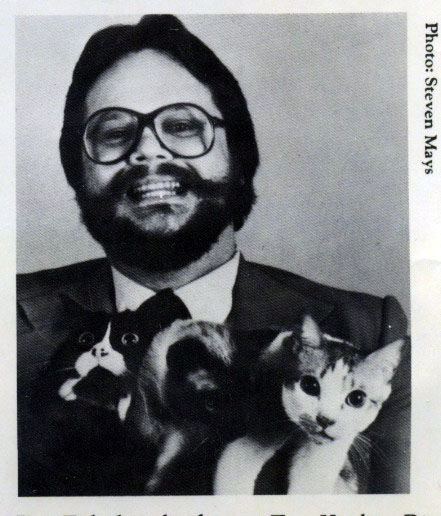 All in all, a delightful, if not so useful, cookbook. And it's going for $.20 on Amazon! A steal, if you ask me.
Fobel wrote at least nine other cookbooks, including Jim Fobel's Old-Fashioned Baking Book, Jim Fobel's Big Flavors, Jim Fobel's Casseroles, and Jim Fobel's Diet Feasts.
(Housekeeping note: I finally put all of my cookbooks on LibraryThing.)Â