Lowinsky, Ruth. Lovely Food: A Cookery Notebook. London: The Nonesuch Press, 1931. 8vo. 127pp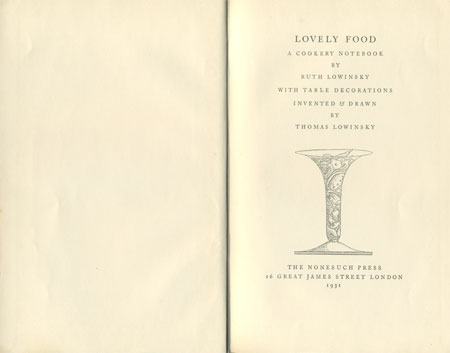 Published in 1931, Lovely Food was the work of an English socialite and hostess, Ruth Lowinsky. Her husband, Thomas, was a Surrealist painter, and they collaborated on the book. She wrote the menus and the recipes; he drew centerpieces to go with them. Lowinsky's emphasis was more on entertaining than on cooking; many of the recipes are mere outlines. When preparing clear mushroom consommé, she simply tells the reader to "make a good consommé," neglecting to go into what that might actually involve. The result is recipes that read more like instructions from mistress to cook than tips for a novice in the kitchen. The references to servants sprinkled throughout the book make it seem likely that this is, in fact, what Lowinsky had in mind.
Lowinsky, merits at the stove aside, was clearly an energetic and entertaining hostess. The menus in the book are all centered around witty, and occasionally improbable, dining scenarios. In one, she imagines that the reader's stuffy father-in-law is coming to dinner, "prepared to judge you as either the laziest housekeeper in Europe, or the most extravagant, or even a subtle combination of the two." Under the circumstances, she suggests consommé, smelts, chicken, meringues, and a centerpiece that looks like it might have been made from a slinky: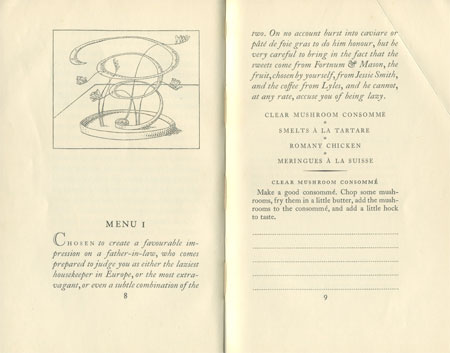 In addition to in-laws, Lowinsky addresses a number of other possible dining companions: those who don't eat red meat (a rarity, one would assume, in 1931); those who fancy themselves gourmets but really only fancy their own opinions; and my favorite, a "dream party" made up entirely of her intellectual crushes. She acknowledges that "one can never hope to meet, or if met, be remembered by: Einstein, Mr Charles Chaplin, Freud, Virginia Woolf, Stella Benson, Mussolini, P.G. Wodehouse, Mistinguett, Lydia Lopokova, and Jean Cocteau," but she suggests a menu nonetheless. Apparently, they would best enjoy a slightly exotic meal, interpreted through the lens of classic French cuisine: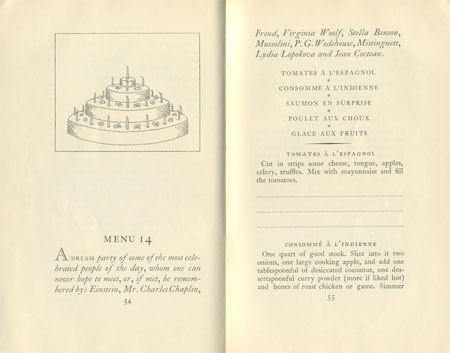 Her old stand-by, consommé, makes an appearance, but this time it is bolstered by the addition of some curry powder and "desiccated cocoanut" (perhaps for Mussolini's benefit?). The tomatoes are Spanish, the salmon "en suprise." The centerpiece looks like a wedding cake.
Though the menu suggestions may seem a bit over the top, and the recipes occasionally under-developed, Lovely Food has an undeniable charm. It's worth reading for the centerpieces alone. And who else would tell you what to make if P.G. Wodehouse was coming over to dinner?
Ruth Lowinsky's other books include: More Lovely Food, Food for Pleasure, and Russian Food for Pleasure.