Margolis, Jack S. and Daud Alani. Cooking for Orgies and Other Large Parties. Los Angeles: Cliff House Books, 1972.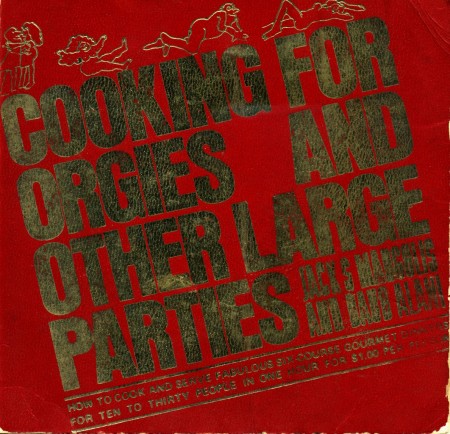 I have been known to buy them in moments of weakness, but I don't really approve of joke cookbooks. I own dozens of cookbooks with barely usable recipes, but I make a distinction between books that are intentionally bad and those that have merely aged poorly. Cooking for Orgies and Other Large Parties: How to Cook and Serve Fabulous Six-Course Gourmet Dinners for Ten to Thirty People in One Hour for $1.00 per Person has always been a crowd pleaser, though, and I feel some genuine affection for it.
The authors, Jack S. Margolis and Daud Alani, claim to be "Hollywood Bachelors" with no first-hand knowledge of orgies. Their "friend," Ernie Lundquist, "has an orgy…every Wednesday night at 9:00 p.m.," and has taught them everything they know. Perhaps because of their lack of experience, or perhaps, as I suspect, because they are mostly excited about their cooking method (see below), Margolis and Daud don't devote much of the book to talk of orgies. There are naughty line drawings throughout, and there is a perfunctory "Special Consideration" section at  the beginning, complete with a suggested time-table ("9:30-12:00: Free Play"), but that's about it: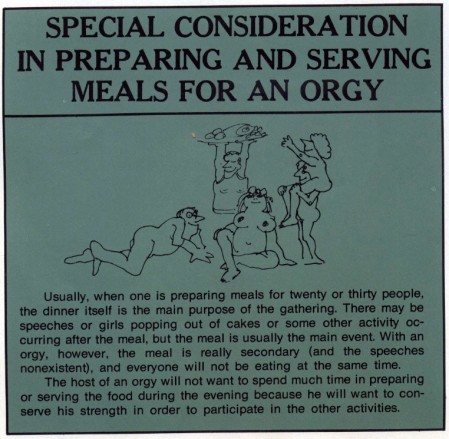 They quickly move on to the meat of the book, as promised in the subtitle: "How to Cook and Serve Fabulous Six-Course Gourmet Dinners for Ten to Thirty People in One Hour for $1.00 Per Person." Their definitions of "Fabulous" and "Gourmet" may differ from mine, and, but I like their approach. Each recipe is presented as part of a menu. The book then provides two sets of instructions, one for making each dish step-by-step, and one "integrated recipe," wherein all of the dishes in the menu are made simultaneously. Not a bad idea, really. It would help, of course, if their recipes sounded appetizing. The menu below, in which spare ribs are marinated in frozen orange juice, tabbouleh is scrambled with eggs before serving, and avocados are doused with apricot brandy is, unfortunately, indicative of their questionable taste.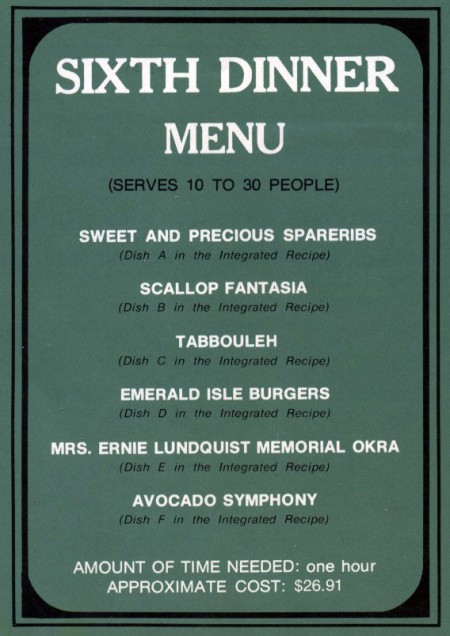 Things don't improve much in the seventh menu. The zucchini recipe calls for two tablespoons of instant coffee, and the Strange Bananas are coated in a sauce made from bread crumbs, buttermilk, and banana liqueur. Strange indeed.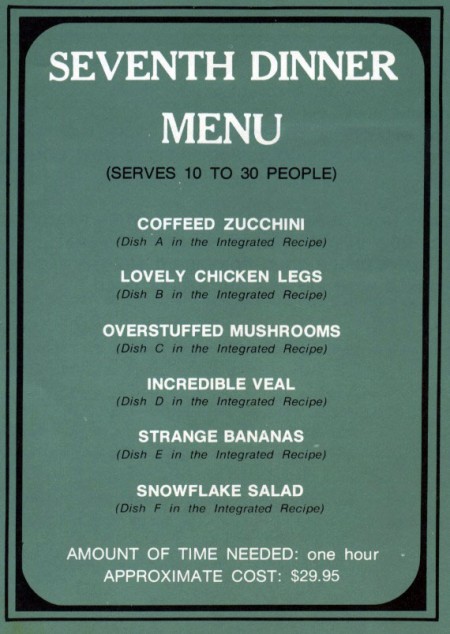 Margolis may not be a trustworthy cook, but if his other books are any indication, he would probably make an entertaining host. They include A Child's Garden of Grass: The Official Handbook for Marijuana Users (in which Ernie Lundquist makes another appearance), Jack S. Margolis' Complete Book of Recreational Drugs, The Poetry of Richard Milhous Nixon (really!), and The Ins and Outs of Orgies.